Binmile, has been recognized as one of the top global software development companies by Clutch. This accolade further solidifies Binmile's position as a trusted partner for businesses seeking transformative software solutions.
Binmile, a leading software development company, proudly announces its recent recognition by Clutch as one of the foremost players in the global software development industry. This esteemed accolade further solidifies Binmile's reputation for delivering innovative solutions that empower businesses to thrive in the ever-evolving digital landscape.
Clutch, a renowned B2B ratings and reviews platform, meticulously evaluates thousands of technology service providers worldwide to identify the best performers in various domains. Their rigorous assessment process includes client feedback, independent market research, and comprehensive analysis of industry expertise. As a testament to Binmile's unwavering commitment to excellence, Clutch has now ranked the company among the top software development firms worldwide.
This accolade follows a series of remarkable achievements by Binmile, including successfully delivering complex projects for its leading clients along with exceptional client satisfaction. Such recognition showcases Binmile's ability to deliver on its promise of crafting impactful solutions that drive business growth.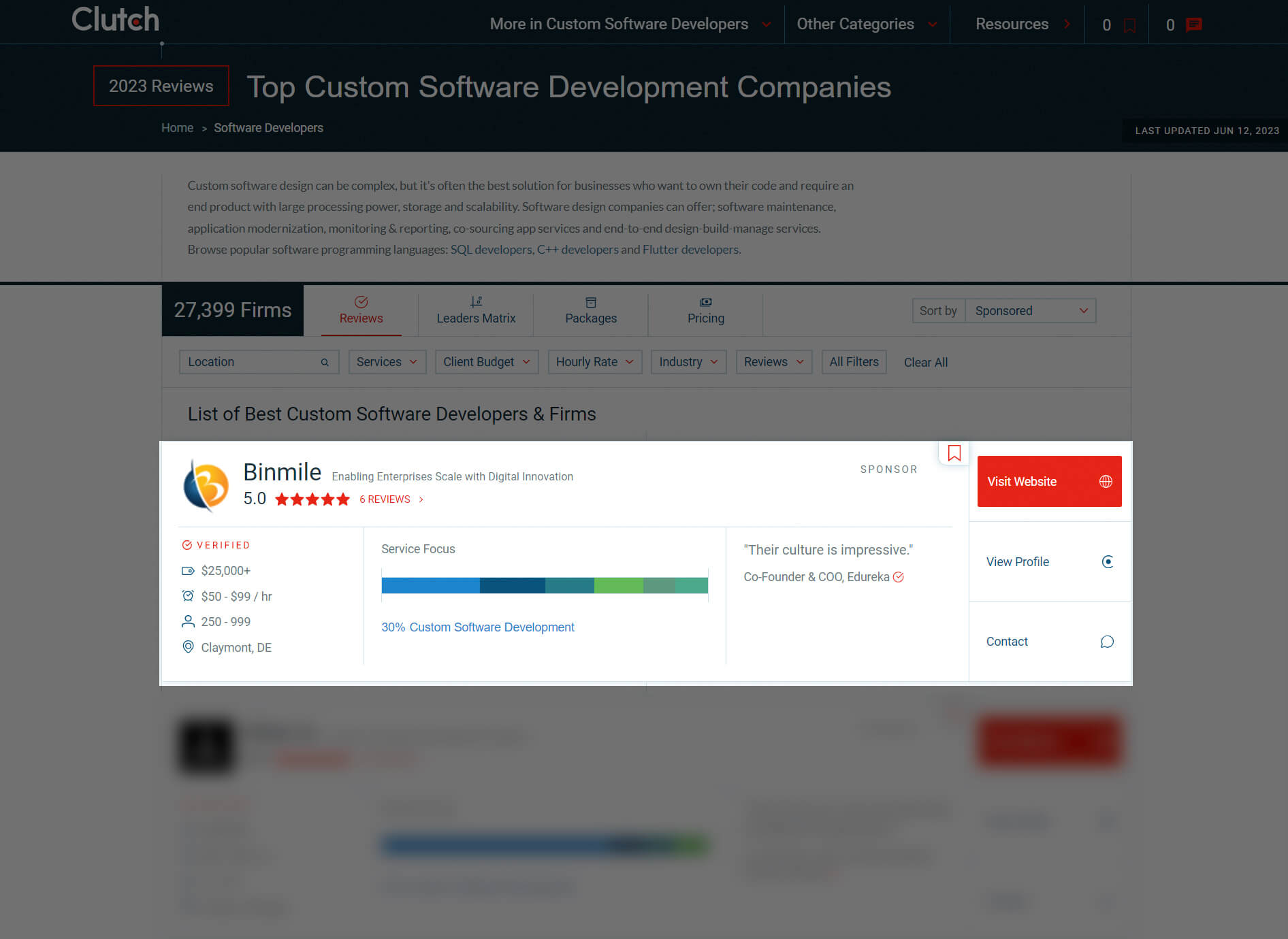 Binmile's AVP Marketing, Ms. Sana Ansari embraced this momentous recognition, emphasizing, "Being celebrated as one of the leading software development companies globally by Clutch is a testament to the relentless pursuit of excellence within our organization. We are driven by a deep-rooted passion for delivering cutting-edge solutions that push the boundaries of innovation. This recognition reinforces our unwavering commitment to revolutionizing the digital landscape and empowering businesses to thrive in the digital era."
As a premier digital engineering company, Binmile combines technical excellence with a deep understanding of its clients' goals and challenges. The company offers a comprehensive suite of services that encompass custom software development, mobile app development, web development, cloud solutions, AI-driven applications, and more. Binmile's client-centric approach, combined with its focus on quality and innovation, has enabled the company to forge long-lasting partnerships with esteemed organizations worldwide.
About Clutch
Clutch is a leading B2B ratings and reviews platform that simplifies the process of finding reliable technology service providers. Today, with over 150,000 agencies listed, Clutch has amassed a vast database of 36,000 client reviews and 100 survey reports. By collecting and analyzing this wealth of data, Clutch offers valuable insights and unbiased reviews, helping businesses make informed decisions. With its comprehensive assessment process and transparent platform, Clutch has become a trusted resource for companies seeking top-notch software development expertise.
About Binmile
Binmile is a globally recognized software engineering company that empowers businesses with transformative digital solutions. With a client-centric approach and a team of skilled professionals, they specialize in providing tailored software products and services to businesses of all sizes. Binmile is committed to offering a plethora of services in digital product engineering, app development, cloud & DevOps. Offering a well-balanced blend of modern engineering backed up by expertise in advanced technologies, including Big Data, AI, IoT, AR/VR, and Blockchain. The company has a proven track record of successful project delivery, client satisfaction, and industry recognition. They have received recognition and awards from Nasscom, Silicon India, Hindustan Times and have been recognized as one of the Deloitte Fast 50 Companies 2022.