To successfully provide services to their clients, many organizations require specialized software solutions. Applications developed through custom software development are created to specifically fulfill the needs of these businesses and users. Statistics state the size of the world market for software development services was estimated at USD 290360.0 million in 2021 and is anticipated to grow at a CAGR of 14.51% throughout the forecast period, reaching USD 654630.0 million by 2027.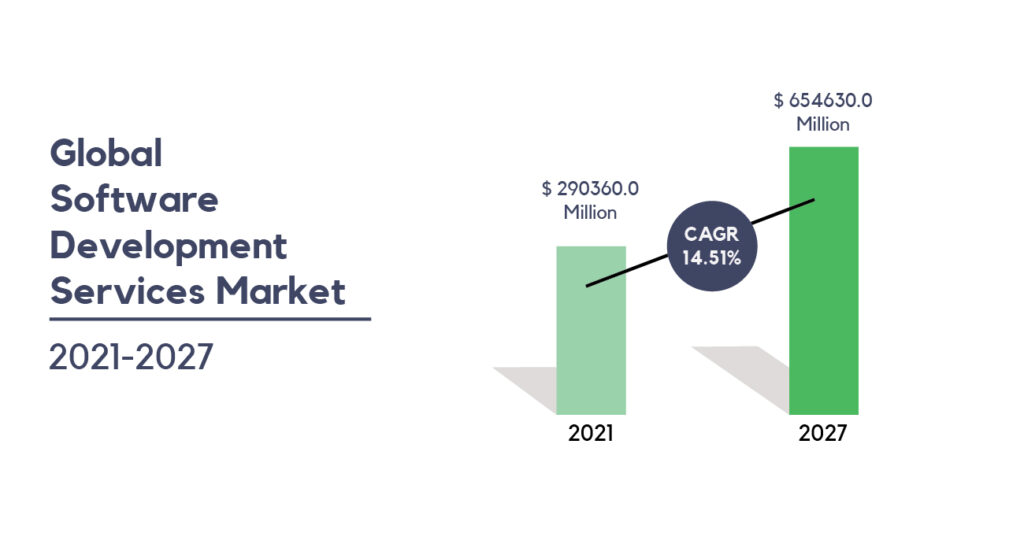 Amidst such a rise in demand for custom software solutions, organizations are looking for IT solution providers who can comprehend their particular business requirements as well as the psychology of the clients they serve and offer solutions that are distinctive and unmistakably represent their business offerings. In this write-up, we'll have a look at various reasons why any business that aspires to gain a competitive edge on the market must invest in custom-tailored software solutions.
1. Leave behind legacy applications!
Most likely, the software used by your company hasn't been updated for years. Many companies still employ old software stating it 'works well' for their company or because the employees are 'too comfortable' with the software. Or perhaps different developers over the years have worked on your legacy program, resulting in a piecemeal solution that barely works in the background. You might be unable to innovate, become more effective, or achieve more if you keep using out-of-date programs. While it seems intimidating to alter a program's usage after years or even decades of use, custom software enables you to imagine possibilities beyond your existing setup.
2. High maintenance software and no technical competency?
Many businesses struggle to find the competency they need in-house to support their legacy systems. Frequently, you have an IT crew that is overworked and can lack the specialized skills needed to resolve the problems with your application. Or, even worse, there may be no one in your organization responsible for supporting your aged application. As a result, your organization may experience severe disruptions due to functionality, security flaws, or an application that is always at risk of downtime. When creating a bespoke application with a partner in custom software development, you'll have a committed team of professionals that can manage and upgrade your program with your best interests in mind ensuring your systems are always up and running.
3. Wish to make your team more efficient?
Managing internal processes is a task for many companies. Automating redundant tasks so that your employees can focus on creativity and innovation is not as easy as it seems. A custom-tailored software solution can help you here. A bespoke solution can help your internal team, and custom software is created to meet particular process demands. Your staff can gain significant time back and focus on the crucial facets of their jobs by automating routine internal processes.
Read more about how custom software can help build a business reputation and achieve a digital advantage over your competitors.
Read more: Top Reasons Why Insurance Companies Should Hire Insurance Software Development Company
4. Stop juggling between apps to access data!
Each department or team in your company probably makes use of a variety of different applications to access data, view reports or analyze operations. As a company with centralized processes, your business may require your various applications to integrate. Or a connection between a custom application and a tool like your accounting or CRM system. You can accomplish that using customized software. The creation of APIs and system interfaces that enable communication and data sharing amongst your most important tools is a skill that many custom software development companies have. When it comes to your data, bespoke software ensures no siloed interactions and enables your data to move within your applications with ease.
5. Do You wish to save money?
Although the initial cost of custom software development may surprise some people, custom software can ultimately help you save money in the long run. Off-the-shelf tools may be less expensive initially, but the costs of training your team, licensing, and possibly adding new applications to replace functionality that is absent pile up over time. You may maintain control over your budget and early investment while your team is in charge of developing the unique solution that best meets your demands. Working with a development team enables you to construct the basic solution and add functionality to it gradually rather than having to create the final product all at once.
6. Aspire scalability but not at once?
The business operations will become more complicated as your company expands. With additional processes, stretched teams, and more clients, your requirement for data storage units also increases. If you are a growing company, you may not wish to invest in expensive storage units at the beginning. A custom software solution supported by cloud storage functionalities can ensure you get support as and when required. As a result, you will avoid having to pay for additional licensing or subscriptions for further functionality.
7. Do You need to guard your data?
Since most off-the-shelf software is built using open-source code, they are typically simpler to hack. Such software has vulnerabilities that hackers and attackers are aware of, whereas custom-developed software is a closed-source project and is only utilized by your team. As a result, the likelihood of intrusions is reduced.
8. Nothing satisfies you?
Each company is solving a certain problem in its market. More the complex your business grows, the more difficult it is for you to find a solution that exactly fits your requirement. There may not be a product on the market that perfectly addresses your particular issue, even though there are hundreds (or even thousands) of SaaS products intended to ease your pain points as a business individually. Every distinct company needs a custom solution that perfectly meets their demand and delivers the results they require.
Summing up
All these reasons make custom software development a better investment for businesses in the long run. Apart from the fact that it is more secure and flexible, it also offers better scalability options and is easier to integrate with other software. Companies should, therefore, focus on finding reliable and experienced software development services companies to help them build the right solution for their business. The company should efficient enough be able to support you as your business grows and changes. If you are looking for a software solution that perfectly meets your business needs, it is time to consider working with a custom software development company.