Call it bespoke software or tailor-made software. Custom software offers customized solutions that can be more efficient and flexible for your needs. Interestingly, custom options are meant for in-house use and target specific problems. Custom software accommodates particular requirements, preferences, and expectations of customers, organizations, and other users. A custom made software is designed to familiarize your particularities and characteristics so that you can offer exactly the necessary service. That is why many enterprises look for custom software development services that help make a software produced built with focused and unique efforts. Read this content and know about the purposes solved by custom software. Also, check the process of custom software development.
The Growing Importance of Custom Software Development
Custom software reflects the requirements, preferences, and expectations of any project, making it fit for most processes and challenges. Nowadays, the throat-cut competition urges business enterprises to match the needs and expectations of their targeted audience. They also look for fulfilling their business requirements. That is why custom software plays a vital role. A global report on software development research firms like Statista and others states that there were about 26.4 million software developers globally in 2019. The exact number is expected to grow to 27.7 million and 28.7 million in 2023 and 2024, respectively. Moreover, the IT spending on enterprise software will reach $517 billion in 2021 and $517 billion in U.S. dollars globally.
American business magnate Bill Gates has completely gone digital and expresses the growing value of software in everyday life. He says, "Paper is no longer a big part of my day. I get 90% of my news online, and when I go to a meeting and want to jot things down, I bring my Tablet PC. It's fully synchronized with my office machine, so I have all the files I need. It also has a note-taking piece of software called OneNote, so all my notes are in digital form."
There is a significant need to focus on custom software programs that cater to different needs conveniently. "The way to be successful in the software world is to come up with breakthrough software, and so whether it's Microsoft Office or Windows, its pushing that forward. New ideas, surprising the marketplace, so good engineering and good business are one in the same," add Gates.
Custom Software Development Process
Customized software is vital for improved business security, minimal interface problems, customization security, lower costs in the long run, and system evolution in the modern era of the consumer market sphere, advanced technologies, and profit-enhancing tendencies. Custom software development is appreciated for the accommodation of particular preferences and requirements. Custom software development is directly associated with software design, creation, deployment, maintenance process for the same set of users, functions, or organizations.
Brainstorming – Discuss and summarize the functionality of the upcoming software product.
Specifications – Make functional and technical specifications recording software's expected functionality.
Designing – Make functioning screens for envisioning how the software will look and work.
Development – Finalize design and implement databases and coding for a functioning website.
Testing – Test the software in all browsers and fix all bugs properly.
Training – Give training to the software development team on how to use the software.
Launching – Make the web-based software live once you approve the project.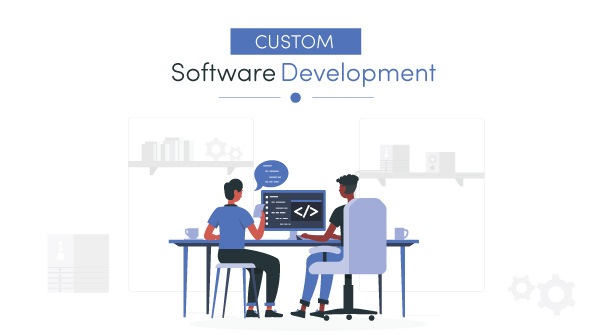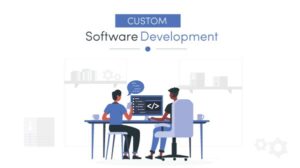 Choosing the Right Vendor for Custom Software Development Services
A custom software development company comes to the rescue of enterprises when they plan to develop a bespoke software application. Enterprises are bound to meet crucial parameters of software development that can match multiple requirements. Business enterprises should consider some crucial factors while searching for the best and competent custom software developer. These factors include:
Geographical location for faster turnaround time and better communication
Choose between a freelancer and established software development companies
Size of the company doing isolated or multi-million dollar projects
Performance history of the company before outsourcing the project
Holistic business experience, knowledge, and domains serviced as per project complexity
Technical knowledge and skills as per the rising level of proficiency
Unique custom software development processes and practices
References, testimonials, reviews, and effective online presence
Check data breach, security, or IP issues to secure data, app, and information
Progressive business financial stability of software development firms
Custom software programming used to build customized products
The non-discloser agreement accepted by both parties mutually
Summing Up
When it comes to having custom software for enterprises, you need to hire a professional and expert software development company with competency in custom software development for various business verticals.
Also, know more about top software development companies in Indonesia.