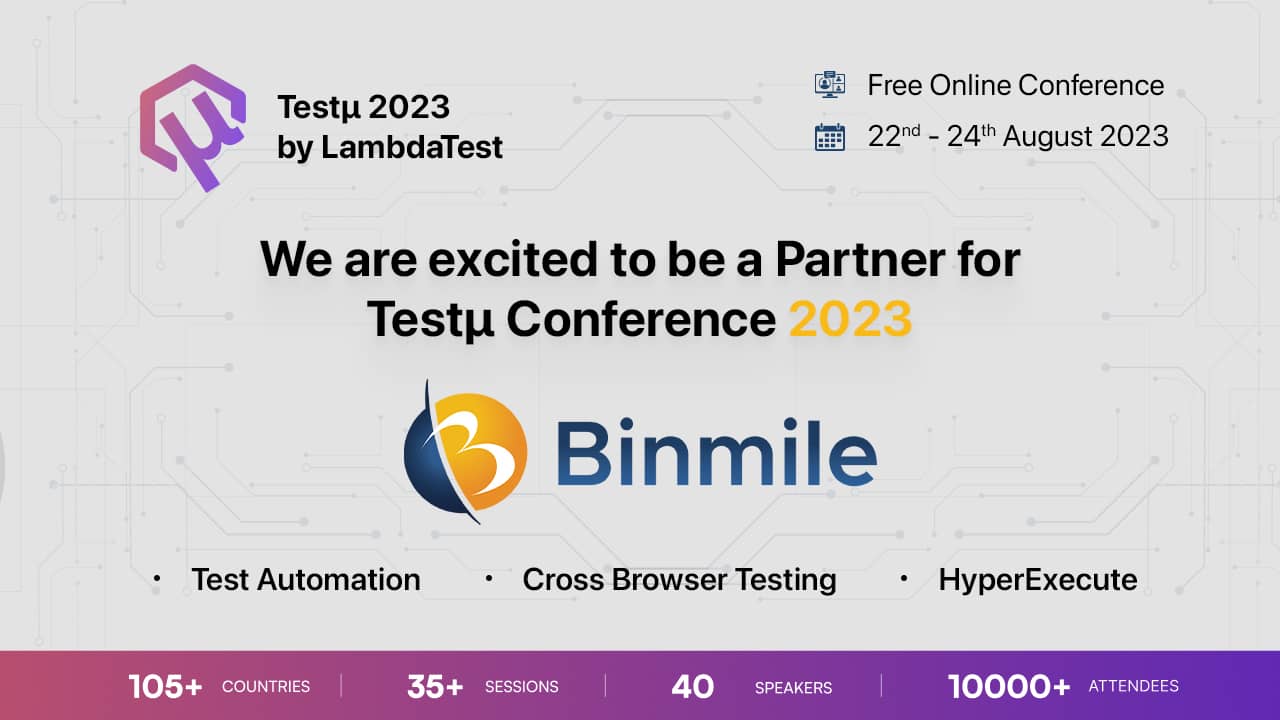 Testμ Conference 2023 – Elevating QA Excellence
Binmile is set to take part in the upcoming Testμ Conference, a global assembly of QA practitioners, testers, developers, and influential thought leaders hailing from over 105 countries.
The Testμ Conference, an exclusive online event, is uniquely centered around each participant. Conceived and organized by the community, for the community, its focal point remains on delivering sessions that delve into the latest trends, providing hands-on learning experiences, and presenting insightful talks on nurturing the right cultural environment. This aligns seamlessly with Binmile's dedication to pioneering innovation, fostering collaboration, and upholding excellence within the realm of quality assurance.
Join Us in Our Booth to Uncover
Unlock Your Regression Test Suites' Full Potential with HyperExecute
Engage with our cutting-edge HyperExecute technology to enhance test efficiency by up to 5 times in your regression test suites. Discover how our innovation can revolutionize your testing process.
Discover the Power of Automation for Unmatched Client Value
Embark on an automation-led journey that brings unprecedented value to our clients. Explore how our approach redefines industry standards and delivers exceptional results.
Elevate Cross-Browser Testing with Unparalleled Speed
Integrate top-tier tools to elevate your cross-browser testing experience. Witness an astonishing surge in speed, enhancing your testing capabilities by up to 80%.
Maximize K6 Browser Tests on Cloud: Robust Hardware, 40+ Browsers & OS
Experience K6 browser tests like never before on the cloud. Benefit from robust hardware, access to over 40 browsers and operating systems, and unleash the full potential of your testing.
Skip the Nurture Cycle and Secure Your Free Consultation
Say goodbye to waiting and dive right into action. Get a free consultation now and eliminate unnecessary delays in addressing your QA needs.
Conference Overview
Connect with 10,000+ industry professionals, forging valuable connections and insights.
Immerse yourself in 35+ enlightening sessions led by 45+ distinguished testing experts from Microsoft, Accenture, Infosys, Wipro, and more.
Engage in interactive workshops and sessions covering AI/ML in Testing, DevTestOps, Test Automation, Test Leadership, Best Testing Practices, Mobile Automation, and Automation Frameworks.
Make the most of this exceptional opportunity to expand your knowledge, network with industry leaders, and discover innovative QA solutions that can shape your success.
Mark your calendar and be part of the Testμ Conference 2023.
Event Time