Digital Product Engineering for Product Roadmap Challenges
Binmile helps you accelerate your digital transformation journey using futuristic technology to build customized digital platforms, portals & products. Digitize any workflow with our technical insight, experience, and cutting-edge digital technologies for your business prospects. Using digital transformation strategies, we assist your organization in designing and developing a device, solution, system, or service to enhance business operations.
Building concrete digital
solutions for your business
Digital product engineering is indispensable to create commercials digital products with a revenue model. So,engineering solutions should meet target user's demands and expectations, solve complex business challenges, and earn a profit. That is why Binmile offers the following services for a digital upper hand.
Experience Design
Captivating user experiences with the best practices in UX research and design to impact customer satisfaction, brand perception, and conversion rates.
Web Development
Custom-built web portals, platforms, applications, and software products by successfully exploiting avant-garde technologies.
Product Development
Reaching a targeted audience and having phenomenal growth with a range of custom software design, development, and deployment services.
Application Modernization
Application reengineering and maintenance services make way for performance improvement and propel you to get a competitive edge in any industry.
Front-End Engineering Services
Standardized processes and methodologies to deliver world-class front end engineering services for maximizing benefits.
Process Automation
Eliminating manual steps to improve efficiency and speed with business process automation solutions.
Digital product concept validation
In the times of disruptive technology, global challenges, and cut-throat competition, all big and small-sized business enterprises prefer solutions that create needs, match customer expectations, ease the process, save time, enhance profit, satiate customers, and inflate valuation. The digital-first mindset is the right answer to evolve from traditional into digital. When it comes to the digital transformation of business processes, products, and services, everyone looks for accurate solutions to many businesses and technology issues, including:
Feasibility of the digital concept
Anticipated time to market
Suitability of hardware platform
Choice of software architecture
Dilemma of making, developing, buying, or partnering
Leverage of open-source alternatives
Potential of required digital skills
Future of legacy products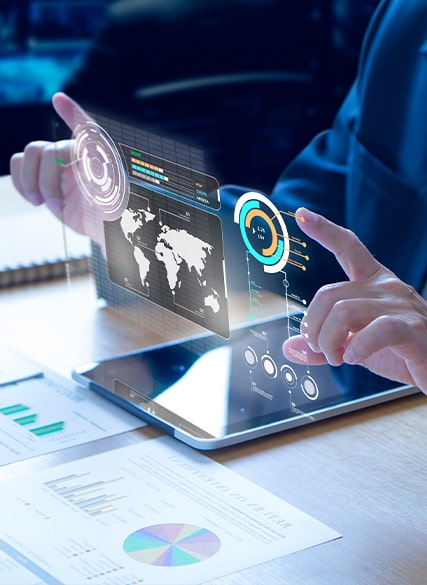 How to implement superlative
product engineering services?
Hire the best digital transformation company for product engineering services if you do not have the right domain experience and technical expertise.
With a team of experienced designers and developers, BinMile delivers high-quality digital products that help you leverage new technologies and build profitable products.